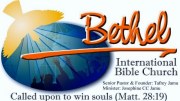 Bethel International Bible Church


Long Nuke Tenants Hall, Long Nuke road, Bartley Green. Birmingham. B31 1DP

Map

Birmingham. UK, West Midlands B31 1DP

Phone: 07505461360 or 07876194635/07864950677
Email:

yahoo.co.uk@jamtafy





Church Company Number 10123369

As partners of Bethel International Bible Church;

You May be led by the Holy Spirit to provide financial support to this ministry;

The Church Bank Details Are:

Bank Name: HSBC

Account Name: Bethel International Bible Church

Sort Code: 40-41-57

Account Number: 40534781

BETHEL INTERNATIONAL BIBLE CHURCH

STATEMENT OF FAITH

As partners of Bethel International Bible Church, we acknowledge under God, and bear witness to:

The Authority and Power of the Bible

We believe that the Bible is the inspired, infallible and authoritative Word of God, without error in all that it affirms. It is our only basis of faith and practice. We also acknowledge the power of God's word to accomplish His purposes.

Isaiah 55:11, Matthew 28:18-20, Mark 16:17-18, Ephesians 1:16-23, 2Timothy 3:16

God

We affirm our belief in one God, eternally existent in three persons: God the Father, God the Son and God the Holy Spirit and in the special creation of the universe as depicted in the Genesis account and the literal genuineness and clear expression of the account and biblical record.

Genesis 1:26, Matthew 3:16-17, John 10:30, 2Corrinthians 13:14

The Father

We believe in God the Father, the first person of the Trinity, He is infinite creator spirit, sovereign, eternal and unchangeable in all His attributes and worthy of love, honour, adoration and obedience.

Matthew 3:16-17, John 10:30, John 16:28, Ephesians 4:4-6, 1 John 5:4-8

The Uniqueness of Christ

We affirm our belief in the deity of the only Son of God – our Lord Jesus Christ. His virgin birth, His death on the Cross, His bodily resurrection and in His ascension to the right hand of the Father, who is in heaven and His return in glory

Isaiah 7:14, Isaiah 9:6-7 Matthew 1:18-25, Matthew 28:1-6, Mark 16:19, Acts 1:1-11

THE Holy Spirit

We believe in the sanctifying power of the Holy Spirit, by whose indwelling presence the Christian is enabled to live a holy life. The outward signs of a holy life are observed through the fruits of the Spirit as defined in Galatians 5:22. We also believe that the baptism of the Holy Spirit, according to Acts 2:4, is given to believers who ask for it. We also affirm that the Holy Spirit gives spiritual gifts to all believers; however, these gifts are diverse and apportioned for the work of the ministry and the edification of the body of Christ, as He will.

Luke 11:13, John 14:26, Acts 1:8, 1 Corinthians 13 to 14:5, Jude 20:25

Salvation

We believe that we are only cleansed from sin through repentance and faith in the person and work of Jesus Christ and that at such a time we are born again by the power of the Holy Spirit. Public declaration of this is through baptism in water.

Exodus 15:26, Psalm 103:3, Psalm 107:20, Matthew 4:23, Mark 16:17-18, John 3:3-7, 16-18, John 10:7-18, Acts 2:21, Romans 5:18, Romans 6:23, Ephesians 2:5-81, Peter 2:24, 3John 2.

Spiritual Warfare

We believe that we are engaged in constant spiritual warfare against principalities and powers of Satan, who is seeking to frustrate the task of building Christ's Church. As we equip ourselves with God's armour and fight this battle with the spiritual weapons at our disposal, our victory is assured.

Matthew 17:14-20, Matthew 18:18, Mark 5:1-15, Mark 16:17, Acts 16:16-18, Ephesians 6:10-18, 2 Corinthians 10:3-6, 1 Peter 5:6-10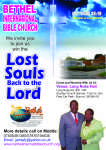 Bethel International Bible Church
BETHEL INTERNATIONAL BIBLE CHURCH
Tafrey Jamu Ministries Ltd
Our Vision
Our Vision below was birthed by the Holy Spirit as the Lord Spoke to our Founding Pastor and commanded him to go and tell the children of "Israel" that the temple of God and the "city" to be rebuilt. The entire Ezekiel 40 passage and Colossians 1:15-23 were given to him as scriptural anchors of the Vision inspired by God.
Ezekiel 40:2-4
New International Version (NIV)
2 In visions of God he took me to the land of Israel and set me on a very high mountain, on whose south sides were some buildings that looked like a city. 3 He took me there, and I saw a man whose appearance was like bronze; he was standing in the gateway with a linen cord and a measuring rod in his hand.4 The man said to me, "Son of man, look carefully and listen closely and pay attention to everything I am going to show you, for that is why you have been brought here. Tell the people of Israel everything you see."
Our Vision is therefore as commanded by Our Lord Jesus Christ in Colossians 1:15-23
New International Version (NIV)
The Supremacy of the Son of God
"15 The Son is the image of the invisible God, the firstborn over all creation. 16 For in him all things were created: things in heaven and on earth, visible and invisible, whether thrones or powers or rulers or authorities; all things have been created through him and for him. 17 He is before all things, and in him all things hold together. 18 And he is the head of the body, the church; he is the beginning and the firstborn from among the dead, so that in everything he might have the supremacy.19 For God was pleased to have all his fullness dwell in him,20 and through him to reconcile to himself all things, whether things on earth or things in heaven, by making peace through his blood, shed on the cross.
21 Once you were alienated from God and were enemies in your minds because of[a] your evil behavior. 22 But now he has reconciled you by Christ's physical body through death to present you holy in his sight, without blemish and free from accusation— 23 if you continue in your faith, established and firm, and do not move from the hope held out in the gospel. This is the gospel that you heard and that has been proclaimed to every creature under heaven, and of which I, Paul, have become a servant."
Come and Join us!
On Sunday Church Morning Services starts 11:00am to 1pm And we have Our Church evening Services every last sunday every Month. Looking forward to welcome you with your family and friends!
Venue: Long Nuke Tenants Hall, Long Nuke Road. Bartley Green. Birmingham. B31 1DP. United Kingdom
Bethel International Bible Church, Tafrey Jamu Ministries Ltd
Bethel International Bible Church (BIBC) is a multi racial and an international Christian Church with the Vision to winning lost souls for the advancement of the Christian Faith in the UK and to all Nations in accordance with the great commission of our Lord Jesus Christ. Our passion is to go out win lost souls and to minister hope, salvation and healing to the Nations and our local communities.
We desire to worship God in our communities, to bring church revival, make disciples, train leaders, plant churches and reach nations for Christ. By preaching and proclamation of the Gospel and teaching of Christian doctrine and principles, providing Pastoral Care, Counseling and printing and distribution of the bible and Christian Literature including video and audio recordings or tapes and by any media which is or may become available.
Our aim is to provide relief to persons who have a charitable need such as those who are suffering financial hardship, bereavement or those who are sick, promotion of equality and diversity for the public benefit and the advancement of education and provision of charitable education and support establishments or centre's for children, youths and adults. We are here and want to help our members and friends raise money for our charitable projects and for our new Church and Community Centre building project in Birmingham UK.
Our vision is also with this passion to assist in the development of communities across Africa, Asia and all other continents working on an individual basis with local Churches to build projects which address key issues relating to the specific community needs. To develop projects which are effective and sustainable within its community in a way which is ethical and environmentally friendly, to develop opportunities and widen future prospects for people across all other impoverished Nations.